WHAT TO EXPECT ON A SUNDAY
Walk through the double doors of our sanctuary on Sunday mornings and receive a warm welcome and a smile. Whether you are a first-time visitor or a returning guest, you will be greeted here like a close friend. Settle into a pew and enjoy the organ music, classic hymns and Christ-centered message from Dr. Rev. Ron Watson at our traditional worship service which begins at 10:30 a.m. After worship, join us outside the sanctuary at our cookie cart for treats, lemonade and fellowship. We would love to meet you and get to know you better!
WHO WE ARE
We are a growing congregation of more than 250 members who range in age from infants to seniors and everything in between. We provide many opportunities for visitors and new members to connect with others such as Sunday school classes, Wednesday night dinners, youth group, a crafter's group, men's and women's Bible studies, chancel choir and ensemble groups, a drama club and more.

WORSHIP

Sunday worship typically lasts one hour and begins at 10:30 in our sanctuary. The chancel choir leads us in music, the pastor preaches and leads in prayer, and the people lift their hearts to God in love. In song, in prayer, in hearing the scriptures read and proclaimed, we come into the presence of the Almighty God with joy and awe, with thanksgiving and wonder.
In addition to Sunday worship, we have special services of worship throughout the year including Ash Wednesday, Maundy Thursday (the Thursday before Easter), and a candlelight service on Christmas Eve.
The sacrament of the Lord's Supper is celebrated on the first Sunday of each month, Ash Wednesday, Maundy Thursday and Christmas Eve.
ANSWERS TO COMMON QUESTIONS

WHAT DO I WEAR?
At our worship service, people wear a variety of clothing from shorts or jeans and t-shirts, to suits, ties, and dresses. Feel free to dress comfortably.

WHAT DO I DO WITH MY KIDS?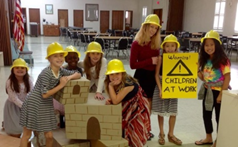 Infants to 4-year-olds can go to our nursery beginning at 9:45 a.m. Sundays. The nursery is located near the church office behind our sanctuary and staffed by a registered nurse trained in CPR and volunteers.
For those who prefer to keep their infant or young children with them during worship, we offer a family room in our upstairs balcony in the sanctuary. This enclosed room has a playpen available and allows parents to see and hear the service while their little ones move about.
Children K through 5th grade begin worship with parents, but are escorted from the sanctuary to Larrick Hall for children's church around 10:40 a.m. A team of dedicated volunteers teach the children about God using age-appropriate Bible lessons, games and crafts.
All volunteers working with children and youth have completed our Child Protection Policy course and a background check.
Please see our children and youth page for more information about our nursery and children's church.
Some of our youth and families like to sit together in the balcony but we welcome everyone to sit where they are comfortable.
DO I NEED ANYTHING FOR THE SERVICE?
Hymnals and Bibles are available in pews for use during the worship service.