Serve
SERVE
Forest Hills Presbyterian is a vibrant and growing church that offers many different opportunities for ministry and service. We welcome the gifts and talents of everyone and encourage our members to respond to God's call to serve in our church, our community and our world.
CHOIR AND MUSIC PROGRAM

Singers, musicians and music lovers of all skill levels can share their talents in one of our various musical groups. Led by our Music Director Irma-Louise Wright, our large chancel choir sings to the glory of God every Sunday morning at worship with traditional and contemporary hymns and anthems. They rehearse Wednesdays at 7:30 p.m. and Sundays at 10 a.m. in our choir room, near the church office. Our Wind Ensemble is a small chamber band that is volunteer-led and performs monthly during the worship service. And we have 3 Bell Choirs! (two adult and one youth bell choir) that rehearse throughout the week. Mondays at 5:45p.m., Tuesdays at 12:30 p.m. and the youth bell choir meets Wednesdays at 5:30 p.m. Join us!
HOLIDAY BAZAAR
One of the biggest events we host every year is our annual bazaar in October sponsored by Presbyterian Women. All year, our crafters and furniture Friday groups collect, create and repurpose items to sell. Sales from the event benefit more than 30 different organizations in the Tampa Bay area and abroad. Our entire church family pitches in on bazaar day and the week before during set up. There is a job for everyone from cashiering and baking to selling plants, vegetables and crafts.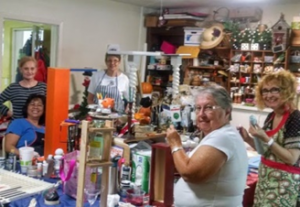 CRAFTERS
Our craft cottage is buzzing with activity and creativity every Tuesday from 9 a.m. to 9 p.m. from March through October and is located in the building behind our sanctuary. Novices and expert crafters are welcome to join in and get their hands dirty as they paint, stitch, glue, build and repurpose items to be sold at our annual bazaar in October. Friendships are made and faith is built up as we work side by side on projects that support those in need in our community. Jennifer Gregory is our craft coordinator.
FURNITURE FRIDAYS
This group of woodworkers and painters can take what's old and make it new. Their refinished and repurposed furniture pieces are a popular seller at our annual bazaar. This group meets every Friday from 10 a.m. to 2 p.m. in our multipurpose house.
SPANISH CLASS
In our Spanish class, students strengthen conversational Spanish skills and comprehension, and practice with other church members. Students also use their developing Spanish skills for community outreach. Some prior knowledge of Spanish is required. Led by Tom Ellerman, a retired high school Spanish teacher, this class meets every Tuesday from 7:30 p.m. to 8:45 p.m. in Larrick Hall.
FOREST HILLS ELEMENTARY BRAVE OF THE MONTH
Our Outreach committee serves refreshments and provides stuffed animals for the Brave of the Month awards ceremony recognizing outstanding students at Forest Hills Elementary. We also sponsor dinners for teachers on conference night and provide backpacks of food and school supplies to students in need.
CHRISTMAS CAROLING
Every December, our membership care committee coordinates a group that goes Christmas caroling to shut-ins and church members in nursing homes. We deliver cards, treats and Christmas cheer to those who are unable to attend church with us during the Christmas season.
DRAMA CLUB
Our middle and high school youth perform Christian skits and dramas, some of which they have written themselves. Led by Laura Lewicki, the youth learn public speaking, acting, stage design and creative writing. Their performances have been featured at church events, luncheons and worship services.
TRUNK OR TREAT
Every Halloween, pint-sized superheroes, princesses and costumed characters convene on our campus for a safe, family-friendly evening of trick-or-treating, games and fun. Church members decorate their car trunks in Halloween and other themes and hand out candy and trinkets to 400 neighborhood children and their families. Contact the Christian Education committee for more information.
CHURCH WOMEN UNITED CLOTHES CLOSET
The clothes closet is located in Tampa and serves the homeless and underprivileged families. Our church collects clothing, linens, toiletries and small household goods which are distributed for free to those in need. Volunteers are needed to staff the clothes closet on Wednesdays. For information, contact Faye Buchner.
BETH-EL FARMWORKERS MINISTRY
We collect beans and rice throughout the year and bring it to this mission for migrant farmworkers in Wimauma, FL. We also collect school supplies for the children during the summer so they can be prepared when they start school in the fall. For information, contact Phil Scalera.
THORNWELL HOME FOR CHILDREN
Our church partners with Thornwell by providing office space and support in their mission to preserve families and serve abused, abandoned and neglected children. Thornwell counselors provide parenting skills, classes and services to at-risk families and children in the Tampa Bay Area. For information, contact the Outreach committee.
DEACONS
This nurturing arm of the church provides visitation, homebound communion, and prayer for members in hospitals, nursing homes or recovering at home. The deacons also sponsor food drives at Thanksgiving, Christmas, Easter, and before spring and summer breaks for families in need.
ELDERS AND COMMITTEES
The Presbyterian Church operates by committee, which is overseen by our session of elders and church leaders. Committees join together to complete the work of the church including Christian education, worship, outreach, membership care, facilities, finance and personnel. Volunteers are always needed and encouraged to use their God-given strengths and talents to further God's kingdom.
TEACHERS
Teachers for Sunday school, special studies, and short-term classes are always welcome. All adults teaching or volunteering with children and youth must complete a background check and our Child Protection Policy training. Contact the Christian Education committee for more information.