Staff
Rev. Claudia Henderson – Pastor
pastor@FHPCTampa.org
Our pastor is a Florida native, born and raised in Jacksonville, Florida. She admits to living for short periods in Baltimore, Louisville, and outside New York City but calls Tampa home. As a second career minister in the Presbyterian Church (USA), she has also been a Lutheran, Episcopalian and Methodist at different times in her life. She firmly believes that regardless of our previous denominational backgrounds, we all need to find a church that meets our spiritual needs today. Claudia's strengths are preaching, teaching and pastoral care, all of which she delivers with warmth, humor and Southern hospitality. Come and see for yourself! Everyone is welcome.
Becky Bryan – Pastoral Associate Intern
youth@FHPCTampa.org
Becky is a graduate of Florida State University where she majored in history and religious studies. She has returned to her Tampa Bay roots after spending three years in Austin, Texas where she attended seminary and received her Masters in Divinity. She is on the ordination track to become an ordained minister in the PC(USA). Becky has always been active in youth and college programs, both as a participant and leader. She is passionate about giving students a space to ask questions so they may grow and live in God's grace- all while having fun and good fellowship! Becky is a fan of comic books, coffee, and her cat, Archer, whom she loves dearly.
Rick Miley – Interim Music Director
musicfhpc@gmail.com
Our interim music director Rick Miley has been attending Forest Hills Presbyterian Church with his family since 1976. He served for a time as Music Director for Spirit of Life Metropolitan Community Church in New Port Richey. In his professional life he is a Database Architect for Gap, Inc., headquartered in San Francisco. Rick plays the trombone and piano, and has sung in the Forest Hills choir for most of his years here. He tries to program a wide variety of music to connect as many people as possible to the word of God. Anyone wanting to share his or her musical gifts with our congregation can contact Rick for more information.
Bonnie Copeland – Organist
bonniecopeland@tampabay.rr.com
Bonnie has been the organist at Forest Hills Presbyterian Church for 46 years. She was called to music ministry early in life, performing as an organist at age 14. Since graduating from USF, she has performed as a pianist and organist, and has accompanied internationally-renowned composers. She has led the children's and youth music programs at the church and teaches private lessons to students in the community. Now retired from the school system, each week Bonnie brings out the best in our new organ with her exceptional talents. Her motto is: All things to the glory of God.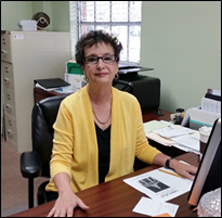 Madeline Manuel – Office Manager
office@FHPCTampa.org
After working more than forty years as a retail buyer and designer, Madeline is honored to be able to work in the Lord's house with such a great staff and vibrant congregation. She handles all administrative and office tasks and is the go-to person for any questions or concerns.
Elizabeth (Liz) Townes Cancelliere – Finance Secretary
finance@FHPCTampa.org
Has an BSBA in accounting from Florida International University and an MBA from University of Tampa.  She is a Certified Public Accountant and has had a practice here in Tampa for over 20 years.  Liz and her husband Chuck have been members of Forest Hills Presbyterian Church for over 10 years and they both sing in the choir.  In her free time she  enjoys beadweaving and watercolor painting.
Abilio Gomez – Facilities Manager
facilities@FHPCTampa.org
Certified as a master electrician, Abilio has become the campus "Superman," handling all areas of church maintenance, as well as rescuing staff members with computer problems. He has faithfully served the church for eight years.