Who We Are
Once a visitor steps inside the doors of Forest Hills Presbyterian Church, he or she is no longer a visitor but a friend among friends.
We are a growing congregation of more than 375 members who range in age from infants to seniors and everything in between. We gather together weekly to worship God, to nurture and grow in our faith, to pray, and to build each other up as members of God's family. Led by Reverend Claudia Henderson, Forest Hills Presbyterian is a warm and welcoming congregation that supports inclusivity and diversity. We offer many opportunities for members and visitors to connect with others such as Sunday school classes, Wednesday night dinners, youth group, a crafter's group, men's and women's Bible studies, chancel choir and ensemble groups, a drama club and more.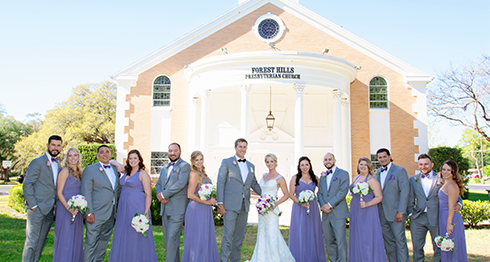 We love to sing, we enjoy each other's company through meals and small group activities, and we love to learn. We support our children, youth and college-age members with activities, events and fundraisers so they can grow as Disciples of Christ.
OUR MISSION

We believe God has called us to serve the community and world around us. We use the talents and resources God has blessed us with to help those in need. Our annual church bazaar, held in October, benefits many local organizations as well as missionaries abroad. We support our neighbor Forest Hills Elementary School, our own Forest Hills Presbyterian Learning Center, and our community through events such as Easter and Christmas camp and Trunk or Treat. We collect food and school supplies to fill backpacks for children in need. We partner with Church Women United Clothes Closet, Beth-El Farmworkers Mission, and Thornwell Home for Children. Our members carry their devotion to serve beyond the church walls and into the greater Tampa Bay area as they volunteer at Bridging Freedom, Equestrian Inc. Equine Rescue, LifePath Hospice, Trinity Café, the R.I.C.H. House and many more.
WHAT WE BELIEVE
Our ministry and community life are undergirded by a theology that comes from the Reformed tradition, following in the footsteps of the great reformers of the faith such as John Calvin and others. For us, this means we are led by and grounded in the teachings of Scripture, filled with gratitude for the salvation Christ brings, informed by the confessions like the Apostles and Nicene creeds, and continually inspired by the three personas of the Trinity that created, redeems and sustains us.
Although God has always been active in the world, our faith centers upon Jesus Christ as the Word of God revealed to us. Jesus is revealed to be "the way, the truth and the life." Through Jesus, God was at work making peace with humanity. Through the risen Christ, we receive the fullness of God and enter into an intimate relationship with God. As our God lives in a constant state of community, we now possess new and better ways for us to live together in community.
LETTER FROM OUR PASTOR
Come on in!
First time visitors often comment on the genuine warmth and welcome they experienced during worship and afterwards. And this is true. We are a congregation that truly enjoys each other's company and we are happy to make room for new folks to join in. Our church calendar is often filled with dinners and luncheons. Some are simply for fellowship but many are in support of our youth group, our mission outreach projects, and even our Cub Scout troop. But what is also unique about us is that we are a church that truly takes ownership- of our faith and our faith family. We treat the church and its members as if they were an extension of our own.
Most of us are involved in other areas inside our church, and this strengthens our respect and love for one another. We feed the homeless and home bound. We volunteer at our preschool and the local elementary school. We start Bible studies or prayer circles, and our choir members sing to the glory of God. We work to recycle, repurpose or reuse discarded items so that we can protect our environment and raise additional funds for missions and outreach organizations. Our focus in the community and in the world shifts and changes from time to time as new opportunities and passions present themselves. We like to stay flexible and move where the Spirit directs us. As a congregation we acknowledge that we are far from perfect and we make mistakes. But we have faith that our God will guide us so that we may ultimately bring honor to our Lord and Savior, Jesus the Christ.
Give us a try- you won't regret it!
Rev. Claudia Henderson
Located at 709 W. Linebaugh Avenue, Tampa, FL 33612, Forest Hills Presbyterian Church is a member church of PCUSA.